Nusa Penida: Bali travel guide
Nusa Penida essential travel guide
Want to know the essentials of travelling Nusa Penida? You're in the right place- we live in Bali and couldn't wait to check out the island.
Recently, Mum and I took a trip out of Bali to the island of Nusa Penida. Unspoilt by tourism, Nusa Penida is one of those places where you can really feel like you are exploring somewhere that is yet to be taken over by chain restaurants, all-inclusive hotel chains and buckets of alcohol sold on the beach. For some, it might be a little too undeveloped! Here's our guide to discovering the island.
The basics
Location: 40 minutes' fast boat ride to the south-east of Bali, Indonesia.
Population: Around 45,000
Currency: Indonesian Rupiah (currency converter HERE)
Languages spoken: Bahasa (Indonesian), English, Balinese
Main town: Sampalan
Getting to Nusa Penida
There are three options of getting to Nusa Penida from Bali:
Go to Sanur Beach and get the slower public boat ('jukung') taking 90 minutes for around 40,000 IDR (around £25)
Go to Sanur Beach and get the fast boat taking 45 minutes for around 90,000 IDR (around £54)
If you want to take your car or motorbike, go to Padang Bai and get the public boat that takes 1 hour for around 16,000 IDR (around £1)
There are also day tours that offer excellent value as they include transfers from your accommodation, a fast boat to Nusa Penida and a driver and tour guide to show you the highlights of the island (click on one of the Get Your Guide trips in the sidebar and below to check them out- going with them means no hidden charges or scams, just a relaxing day of exploring with everything taken care of).
Getting around Nusa Penida
The roads in Nusa Penida aren't as developed as Bali, and there are a LOT of bumpy roads and paths that an off-road vehicle definitely handles much better than a scooter. This is why we were happy that we went with Get Your Guide, as they arranged a good car for us- we saw lots of people having to get off their mopeds and walk on some parts of the road- not fun! It is very difficult to rent a car once on the island as most of the drivers at the harbour have been hired by day tour companies.
If you really want to, you can hire scooters from the main street when you land at Nusa Penida, for around 120,000 IDR (£8) a day. We really wouldn't recommend this but to each their own!
Accommodation in Nusa Penida
There are no super-luxe resorts on Nusa Penida; accommodation is good mid-range or budget. Here's some of our top picks (prices for a double room; kids can often stay free in existing bedding): Click here to have a look at all the accommodation in Nusa Penida, with prices from just £8 per night!
Puri Penida– Gorgeous wooden bungalows with free WiFi just 500m from Crystal Bay. From £35.
Semabu Hills Resort– higher-end hotel with great views, luxury amenities and an infinite pool. From £60/night.
Astiti Penida Resort and Spa– Bungalow style accommodation with Wifi, an outdoor pool and spa. From £35/night.
Coco Resort Penida– hand-made wooden lodges with WiFi, flat screen TVs and an on-site restaurant. From £35/night.
Ari La Casa Guest House– simple guest house with free breakfast and a three minute walk to the harbour. From £14/night.
Krisna Guest House (translate page HERE)- clean rooms with very helpful staff and a swimming pool. From £8/night.
To search for more options of where to stay in Nusa Penida, click here or on the cute little bear banner below.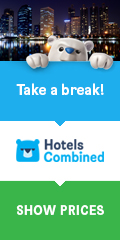 If you're going to Nusa Penida, you'll probably want to check out the other islands nearby too. Get great value deals on accommodation here:
Click here to see the best accommodation deals on Bali
Click here for the best accommodation deals on Nusa Lembongan,
Click here for the best accommodation deals on Lombok
Click here for the best accommodation deals on the Gili islands
What to see on Nusa Penida
Broken beach– this is a stunning cove that has an unused white-sand beach and deep blue water. Visitors can walk around the edge of the gorge-like cove (don't go close to the edge!) and spot locals climbing down to the deserted beach via a rickety bamboo ladder. Great photo ops here and definitely one to bring the drone if you have one!
Crystal Bay– a chilled, quiet beach that hits the perfect balance of convenience and seclusion. A few local snack sellers and snorkel hire shacks are set up along with some umbrellas (you'll be happy for the shade). The snorkelling is good, there is plenty of coral and colourful fish to spot. If you hike up the steps at the far left side of the beach you'll come over the hill to another beach, if you want even more seclusion.
Angel's Billabong– A crystal-clear billabong pool right next to Broken Bach that changes colour depending on the time of day and the weather. Popular with Instagrammers so get there early if you want peace and quiet!
Giri Putri Cave– A mystical cave that is used for religious ceremonies, this is a cool experience for visitors. Crawl through a tiny opening into a large cave and experience the incense and local culture.
Best way to see Nusa Penida
Because of the unspoilt/ undeveloped nature of the island, an all-inclusive day tour is without a doubt the best way to go. We experience Nusa Penida with Get Your Guide, and had a day full of adventure, snorkelling and stunning scenery, and we got some amazing photos.
For our complete essential guide to visiting Bali, click here.
SaveSave
SaveSave